Day 28 -- End of the road: oil, dirt, rain, tundra and cold weather
Travel

From: Coldfoot, AK
To: Deadhorse, AK
Distance: 250 mi (402 km)
Travel time w/brks: 10 hr 02
Distance since start: 7,010 mi (11,272 km)
Tuesday 7/18/2006
The Coldfoot base camp is a collection of buildings that mainly serve the Alaska pipeline workers. Its secondary purpose is to offer limited services to tourists that pass by, such as fuel, tire repair, food, showers, a simple campground and souvenirs. Most of those that stop by are truckers hauling material to Prudhoe Bay from Fairbanks. We had one flat tire that needed repair. Their shop opened at 8AM. I arrived there shortly after they opened and got the flat tire repaired. The repaired tire was then put back on the trailer. I also talked a bit with the only other camper in Coldfoot. He had travelled up here with larger motor home, left it in Coldfoot and headed up to Deadhorse with his pickup. He had now returned and was working on his rather new motor home -- one of his slideouts had developed problems from the road up to Coldfoot. He indicated that the road north of Coldfoot was even worse, with steep grades. Somehow we thought we were hardened at this point...We fueled up and then headed north on the second leg. As we entered the road, a sign read: NEXT SERVICE 240 MILES. The sign did not lie. There would really be nothing from here on and up.
Our first stop on today's journey was the northernmost gold city in the US: Wiseman. It appeared to have been staffed mainly by Russians, who had decided to stay behind in Alaska after the land was sold by the Russians to the US. This city is a shadow of its former past. Calling it a village might be taking it too far, too. Only a few houses are now inhabited. There is no longer any commercial activity here. One couple have put some life back into the town by setting up a tiny museum of sorts. They've collected some of the rusting gold processing equipment from the forest and piled it up neatly on a lawn. It is all free. The kids got an introduction to gold panning and worked with some of the dirt that came from the now abandoned gold mine. Erik actually found a couple of tiny grains of gold after some hard work with the pan.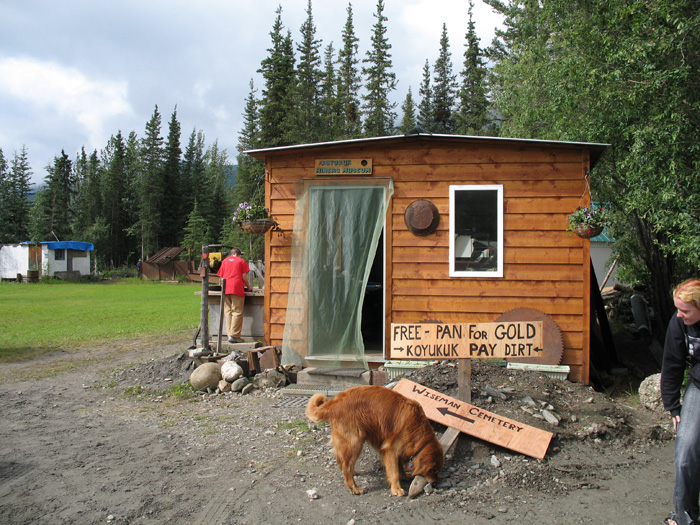 Karl is looking at gold mine "Pay dirt" next to the 12x8 museum in Wiseman, AK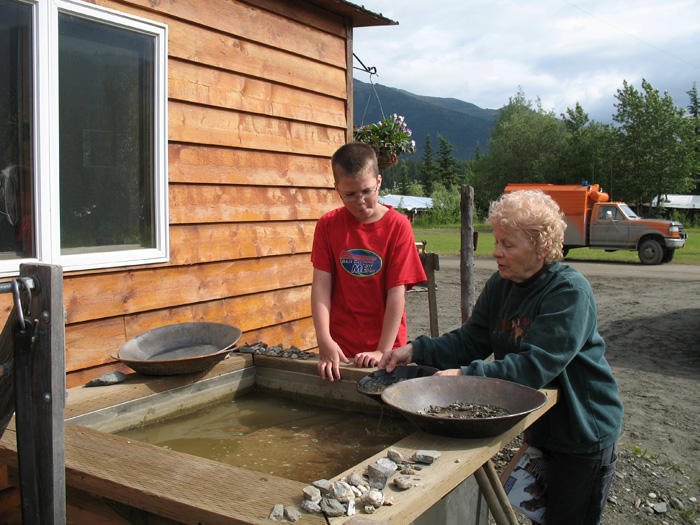 Karl gets training from a pro on how to use the gold pan
Erik hits the jackpot!
I asked the boys to keep going until we had enough to buy a tank of diesel or until it got dark, whichever came first.. the kids gave up after a while. Erik managed to find three specks, probably worth enough to buy a bottle cap of diesel (a 2 second burn on a climb). While the boys were panning, Isabella walked a horse that belonged to the owner. After a while Isabella's arm was a bit numb from the tugging.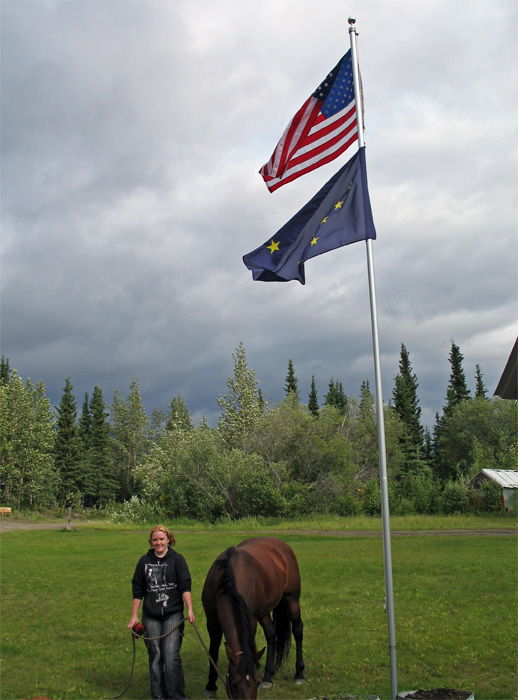 Isabella walks "Princess" at Wiseman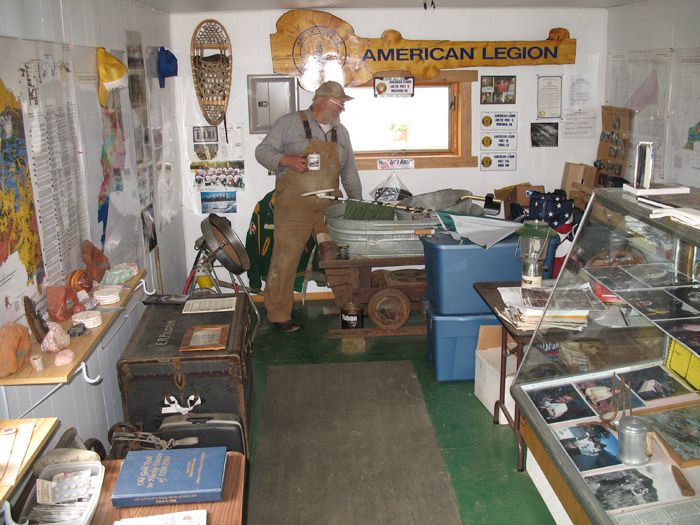 Inside the museum: gold mining memorabilia from Wiseman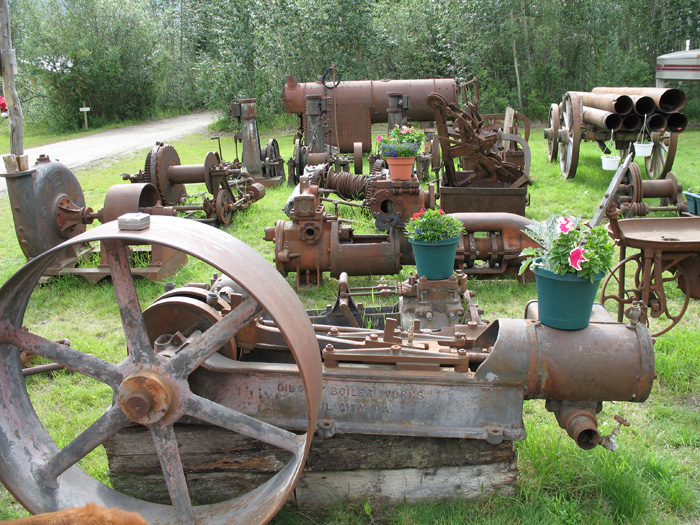 Assorted gold mining gear salvaged from the woods
After saying good-bye we took a brief tour of the town. Lets put it this way. It was somewhat hairy to drive around with the trailer. But it was amusing to see how in harsh conditions some people live. We got a few chuckles looking out the window of the truck.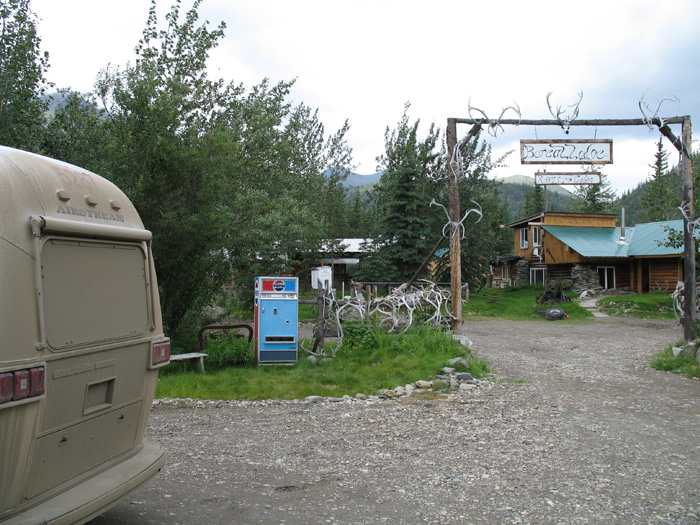 Somehow this disconnected Pepsi machine looks out of place..
After this very worthwhile stop in Wiseman we got back onto the Dalton Highway and headed north. Just before we arrived at the Atigun Pass we stopped to view the northernmost spruce.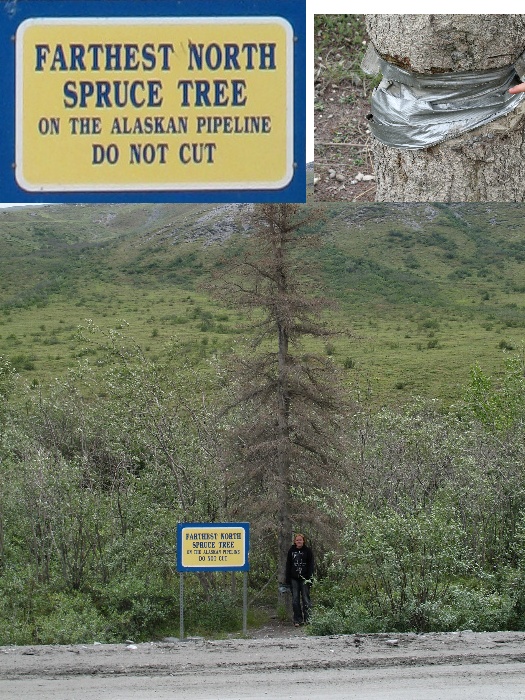 Northernmost Spruce. Or was. Looked sort of dead. Someone had ignored the sign and chopped it a bit too hard. Duct tape could not save this puppy.
We then gunned the truck up the gravel pass. 10% grade and then 12% grade.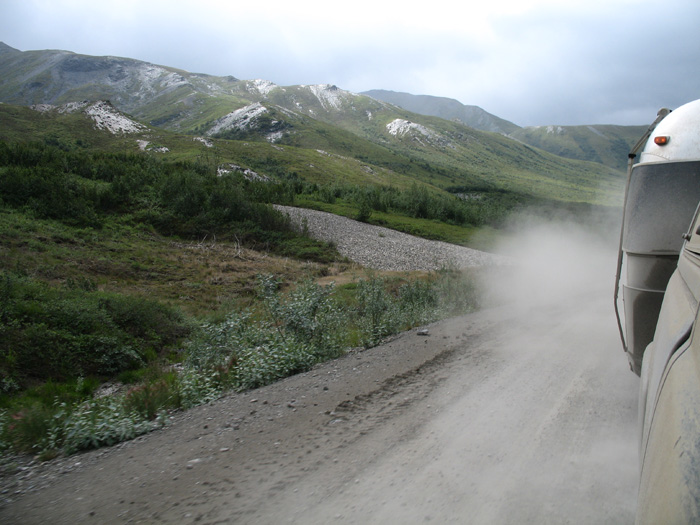 Accelerating up the Atigun Pass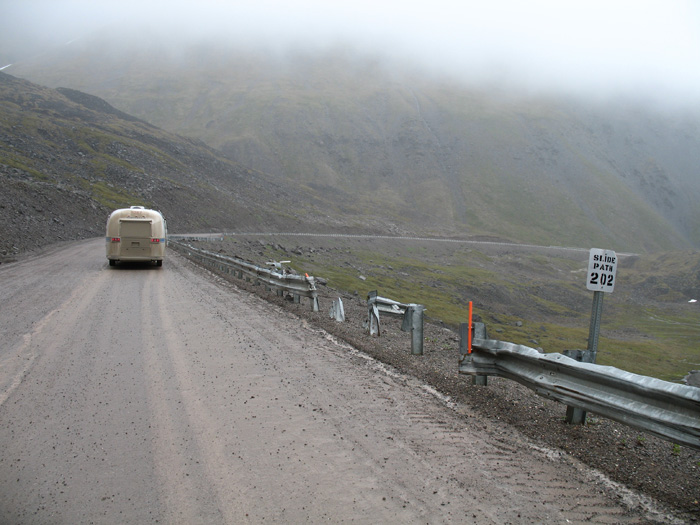 Lovely discontinuities in the railing were plentiful.. "Slide path 202" .. go figure.
We were hungry and decided we should stop up here for lunch. I found a small side road near the top of the pass, looking cautiously at the mountains and the fog in an area know for rock slides.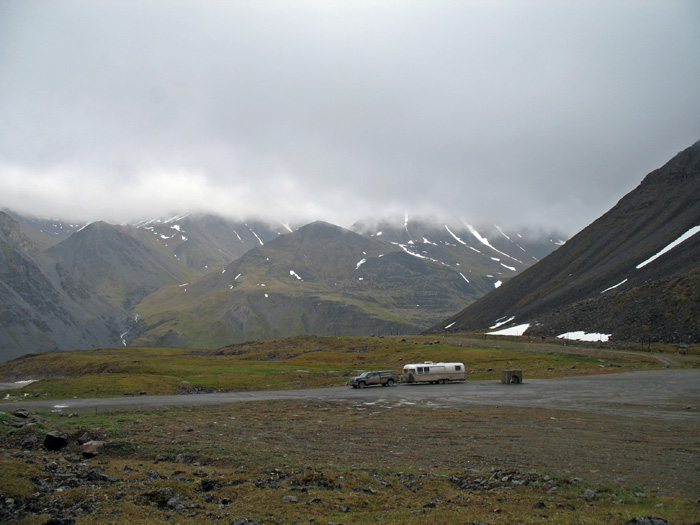 Parked for lunch in the Atigun Pass. An enjoyable 43F outside.
Since it was a bit cool outside, I thought it would be a good idea to fire up the new catalytic heater. As a side note, we have learned to expect a surprise each time we open the door to the trailer after traveling on a rough road. This time was no surprise.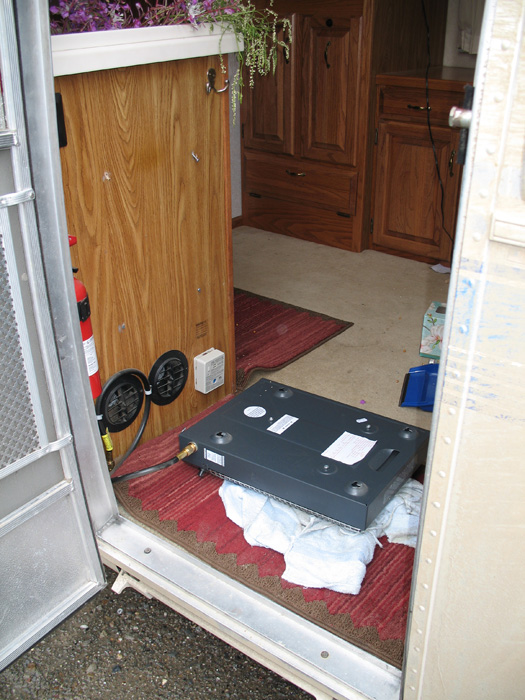 Face down. So much for that catalytic installation. Fortunately we remembered to turn it off this morning..
We continued after lunch towards Deadhorse.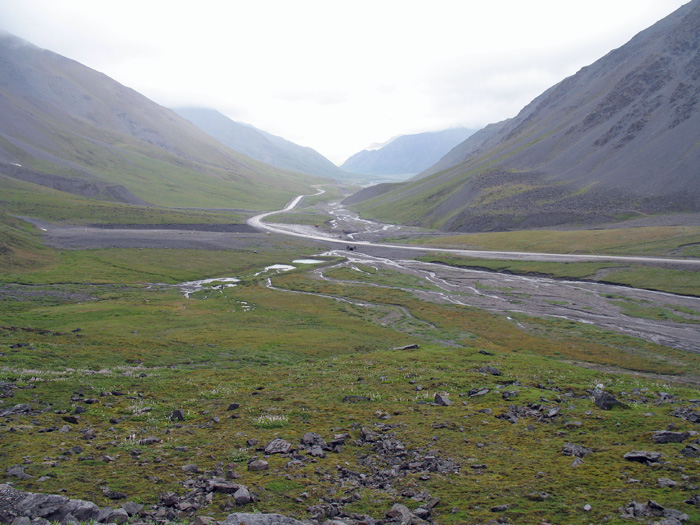 Coming out of the Atigun pass we enter the tundra (no more trees)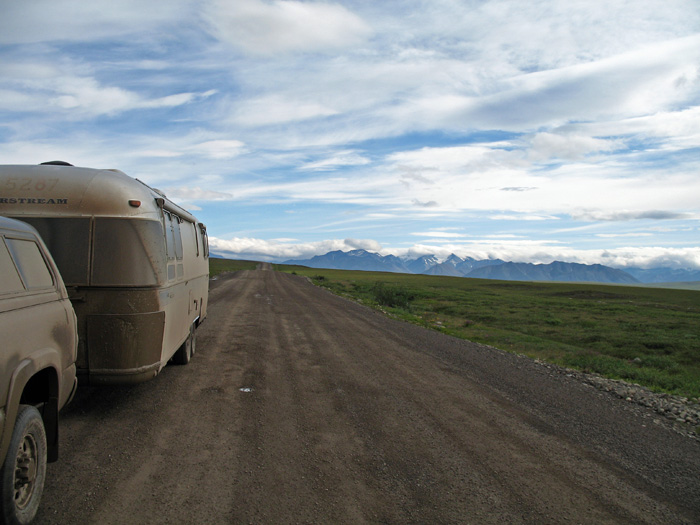 Excellent views .. clouds break for a moment
We continued along the road and finally approached Deadhorse. A few miles before we got into the area we heard a loud bang. It sounded like a rock hit the trailer. Everything seemed ok so we continued. As we arrived in the area we first wanted to explore the Arctic Caribou Inn. Somehow that name sounds like a dream place. But it is nothing more than a bunch of barracks on a muddy gravel area. Compound this with rain and you get the general area. We parked the trailer outside and I started to walk towards the building. Before he could reach the front door, Erik came running towards him. One of our rear tires on the truck was leaking air. Great. I ran into the Caribou Inn to look for someone. But their office was closed. So it was now a matter of parking fast, while we still had air in the rear tire of the truck. I found one slot in the "Camping Area" behind.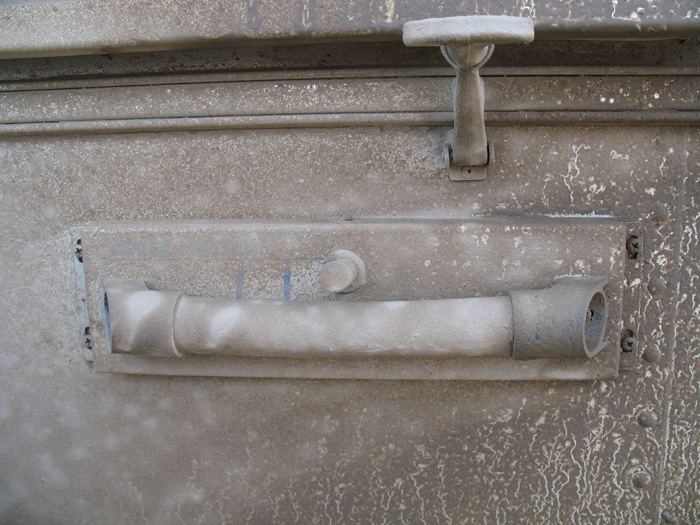 Is the trailer level now? Lets check. Looks ok.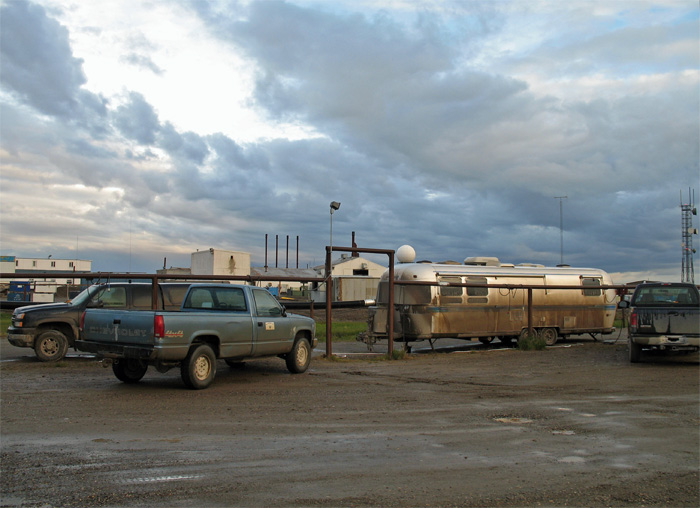 Camping at the Arctic Caribou Inn. Full hookup = 15 Amp, nothing else. We had no water at all. Tank was empty.
The view at the "campground" was lovely. We were essentially in a large industrial area in the Tundra. No trees. Shipping containers. Sheet metal buildings. Assorted industrial vehicles. A couple of hundred feet from our trailer was a large diesel fueled power station, which ran 7x24. It sounded like a diesel locomotive running at max power. What is next? Lets take the tire first.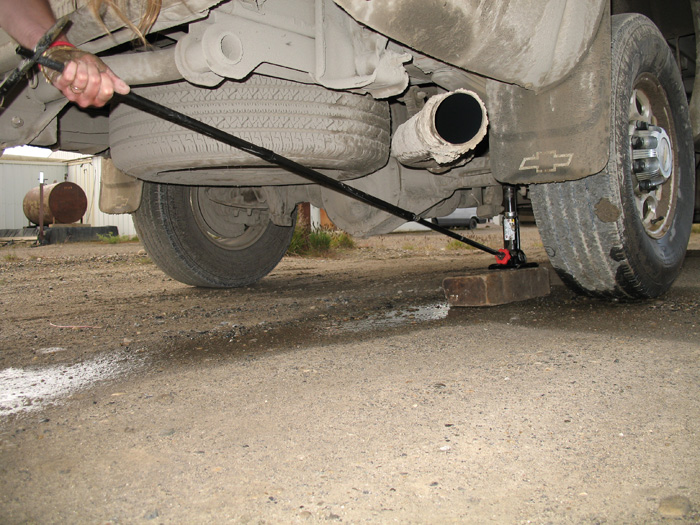 Flat tire #3: right rear on the truck probably hit a rock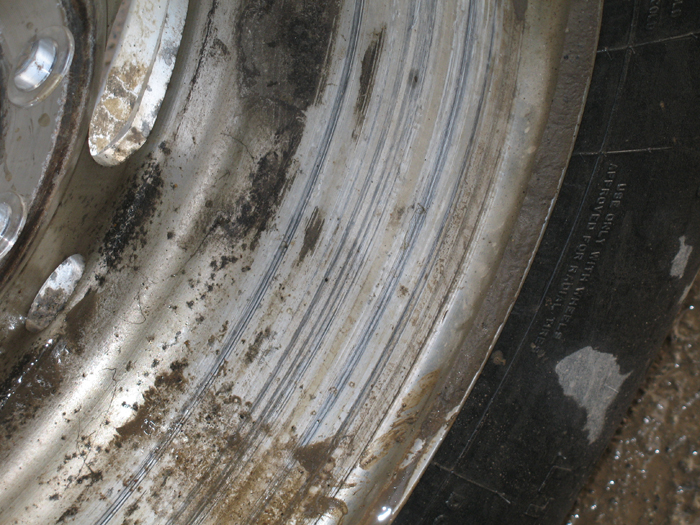 Nice and deep grooves on the inside of the rim from rocks that got jammed there on the way up
A lot of things were not right inside the trailer. For one thing, we had no fresh water. It was not obvious if it had somehow leaked out or there was an issue with the pump not being able to build pressure due to an air leak somewhere. And, we were not able to get any potable water from the Inn. So we could not do any dishes. Erik was not able to boil any hot dogs. I tincupped for a few styrofoam cups from the Inn that we could use for eating food. We cooked a few cans of corn, ate some power bars and brushed our teeth in water flavored by artificial fruit and Splenda. Yum. No showers for anyone tonight. It was daylight at night which did not make it easier to sleep. The diesel power station outside was loud enough that we were only able to open a window on the side facing the Inn. We finally fell asleep. It had been an interesting day to say the least.
Campground

Name: Arctic Caribou Inn, Deadhorse, AK
Our hookups: 15 amp
WiFi: NO
GSM service: NO
TV Channels: NO
Cost: $15/night
Reservation mode: Pop a tire and park as fast as you can
[Next day] [Previous Day] [Main] [Summary]
All Pictures (c) 2006 Hamnqvist, Background features the back of the trailer.